GSM BASED 6 RELAY CONTROL BOARD
NEW DTMF ENABLED - Control from Mobile or Landline phone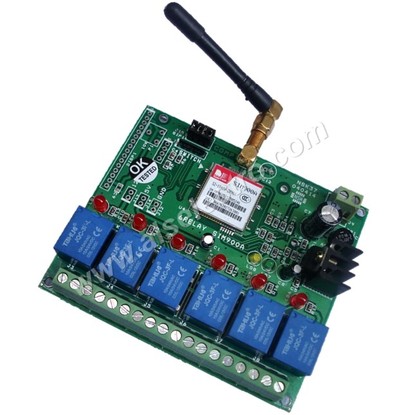 * SIM900 based Relay control .Microcontroller used is RENESAS & the relay driver IC is ULN2003.

* 6 RELAYS can be controlled individually by sending SMS from Owner's mobile.

* Two modes of operation possible. In MODE 2 the first 2 relays act as MOTOR ON & MOTOR OFF Relays.Additionally Relay 3 is also switched ON/OFF
for external intimation or any other purpose.
* MODE 2 is set by removing the first 2 JUMPERS & leaving the 3rds & 4th Jumpers on board.MODE is changed while POWER is switched OFF.
* RELAY Contacts accessed through PBT connectors ( 3 pins per Relay - NO , NC & POLE)


Additionallyin MODE2 OPERATION , Relay 3 will also be switched ON or OFF for any external optional connections or indications.








https://youtu.be/7ryOyBJjz_c
Control a distant Motor by SMS
Add